Everyday, I would log in tom y multiply account to check for any inquiries and inquiries on my humble multiply store. I was about to log off from my account when a new PM popped into my inbox. I was really surprised to know from whom it came from. The PM says:
ei gurl, how are and russ? Haven't heard from you for a very long time :)
Lam mo ba, ive been trying to find a way to get in touch with you, ang site lang na nabuksan ko was the site that you sent to us with your suppliers rating. I hve 2 cellphone number of yours saved from the very first time we texted, di ko binubura at ngbabaka-sakali akong macontact ka.

Sobrang naexcite ako when 1cho told me that you viewed our site, kaya ako nman si hanap sau. We wont ever ever ever forget you.... YOU started it all. After your wedding, ngdagsaan ang mga client sa 1st bridal fair na sinalihan namin and they are talking about your wedding. And because you're our very first favorite couple we included your picture sa mga ads nmin. Meron nga kmeng client Jan 2 '09 na di kme tinatanan kya lng she was asking for the same price as your wedding eh ngincrease na kme nung 2008 dhil ngtaasan lahat last year tpos mas mabigat yung technical requirement nya... pero shempre madali pa rin kming kausap :)

Anyway, I hope you havent forgot us too despite our busy schedules. Hay naku thet, kung alam mo lng. We never forgot the details of your wedding from the day we've met especially the night you called us abt your bad experience days before ur wedding day. For some time nkkwento rin nmin namin kayo sa mga client namin on how OC but KIND you are. On how we worked together for your big day. On how creative you are, yung uniqueness ng wedding mo, etc...

Dami ko kwento.... hope we can see each other again.

MeAnne

MISS YOU!
Wow! This one came from Ann. Wife of Juancho, the owner of Sensitivity. Sensitivity was my sound system supplier. But apart from being my sound system supplier, the couple has been a friend to me. They were my confidant especially during the last stretch of my wedding preparation where some of my suppliers gave me the headache of my life (LOL). When I called Ann, I was literally crying and she comforted me. The couple offered me the kind of package that no one could resist (and that's for sure). They gave me super lotsa freebies and gave me valuable suggestions. I said valuable because unlike my other suppliers, they gave me practical suggestions (kung ano ung maas maganda at mas makakatipid ako). Hindi lang ung nag aatribida.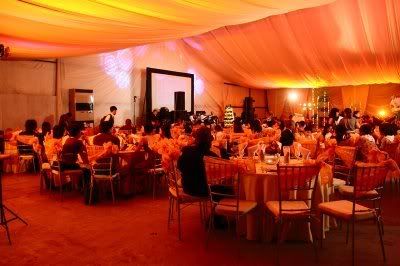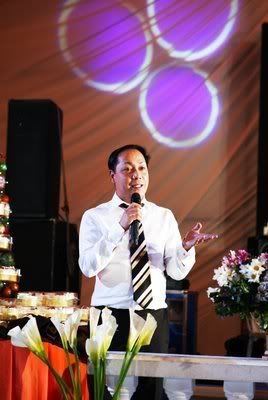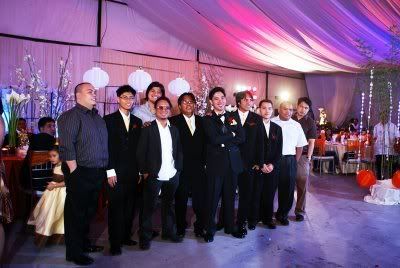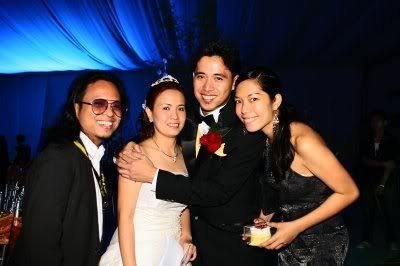 A lot of my friends commended on how the lightings and the drapes improved the over-all setting of my wedding venue. Clamshell tent doesn't really look good in person and even during night time. I've been there twice before. But it looked like as if it was transformed into some kind of a new tent during our wedding. No, being biased aside, I really think that Clamshell looked really different on our wedding night. A lot of our guests even joked that when they took their pictures with all those different lights (especially the city lights), nagmukha daw silang performer sa ASAP. Grand production number lang?! LOL
I have been wanting to contact the couple for a bout a year now. And os they are. Para kaming pusa na ngahahanapan sa isat-isa. But since we're both busy, we never really had the chance to talk/send SMS to each other (especially with the fact that I have lost 2 cell phones in just a year! Duh?!!)
But now that we are contacts of multiply, I can send them now something I've been longing to send them.
To Ann and Juancho, thank you so much for being a part of our wedding. You really gave me the best time of my life. I hope that your business grow even more. God Bless you!